SINOBOOM
---
TELESCOPIC BOOM LIFT
GTBZ20
GTBZ22J
GTBZ26
GTBZ28J
GTBZ30
GTBZ32J
GTBZ36
GTBZ38J
GTBZ40
GTBZ42J
ARTICULATING BOOM LIFT
GTZZ14EJ
GTZZ15
GTZZ15J
GTZZ16EJ
GTZZ18J
GTZZ25J
SCISSOR LIFT
GTJZ0408M
GTJZ0408S
GTJZ0608
GTJZ0608M
GTJZ0608S
GTJZ0612
GTJZ0808
GTJZ0812
GTJZ0818D
GTJZ1012
GTJZ1018D
GTJZ1212
GTJZ1218D
GTJZ1412
GTJZ1623D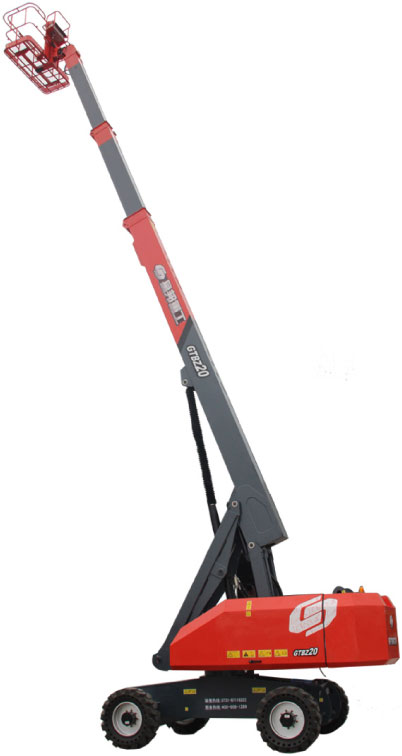 Platform height max : 20.6 m.
Working height max : 22.6 m.
Lift capacity : 250 Kg.
Sinoboom's self-propelled Telescopic Boom Lifts offer rugged, excellent performance and reliabililty, to provide users with a safe and adaptable MEWP that meets challenging conditions and requirement needs. Self-propelled capability during aerial operations increases flexibility and productivity. Telescopic models go right up to 44m max. working height, with a large range of motion operation, high efficiency, powerful engines and large load capacity. Units are able to hold 2-3 operators and boast up to 40% gradeability, enabling ease of positioning and reduces risks of wheels slippage. These Telescopic Boom Lifts are widely used in shipbuilding and repairing, large-scale steel structures (inc. manufacturing), construction engineering, urban utilities, building maintenance, gardening, airports and harbours, curtain wall engineering, petrochemical industry applications and much more. Working at heights safely are our priority.