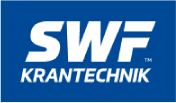 Being an outstanding partner for independent crane builders and retailers across the world is our business and has been for almost a century.
Together we deliver tailor-made solutions and share the common goal to simply be successful.
SWF KRANTECHNIK makes it easy.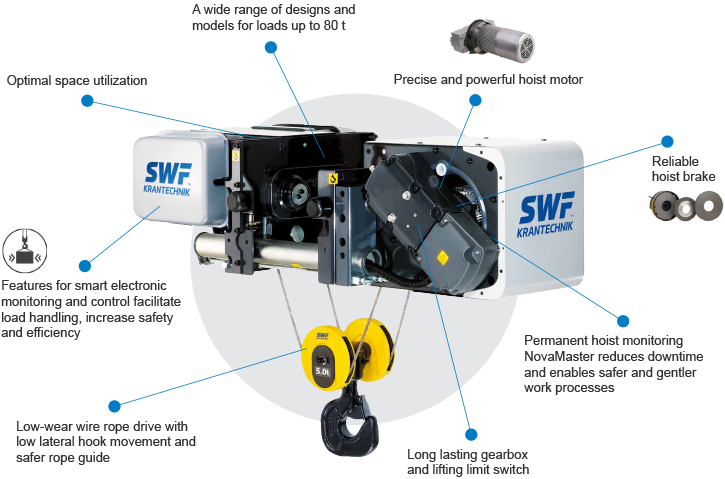 PERFECT LOAD HANDLING
NOVA silverline offers a wide range of designs and models for loads up to 80 t. Intelligent features for smart electronic monitoring and control as well as hoist monitoring can be configured individually in order to optimize workflows.
LOW MAINTENANCE COSTS
Lifetime brake and lubricated hoist gear, rope drum with an extralarge diameter for minimal rope wear, smooth lifting and cross traveling controlled by a frequency inverter for less tear and wear.
FLEXIBLE, PRECISE AND SAVE
Optimal use of space, minimal lateral hook movement, low load swing thanks to smooth lifting and load movement.
SWF is one of the leading global players in crane and hoisting equipment.
At all times and in all places, SWF applies to the highest and the most demanding standards – those of our customers.
Our customers are independent crane manufacturers, lifting equipment resellers and service companies.
They use SWF hoists and components because they perform better, offer advantages and can do more than the average products on the market.
Quick decisions and flexible acting makes it easy to deal with SWF furthermore. Close to every SWF product there stands a reliable local partner who knows
precisely what counts. In this way installations are built to perform better, systems to work and last longer – systems with first class service and opti­mum efficiency, ideally customized to the end users needs.