TCM
---
Engine Powered
1.5 – 3.5 TON
3.5 – 5.0 TON
6.0 – 10.0 TON
Electric Powered
Reach Trucks
1.0 – 3.0 TON
1.4 – 2.5 TON
Heavy Duty Trucks
10 – 16 TON
16 – 23 TON
25 – 30 TON
37 – 43 TON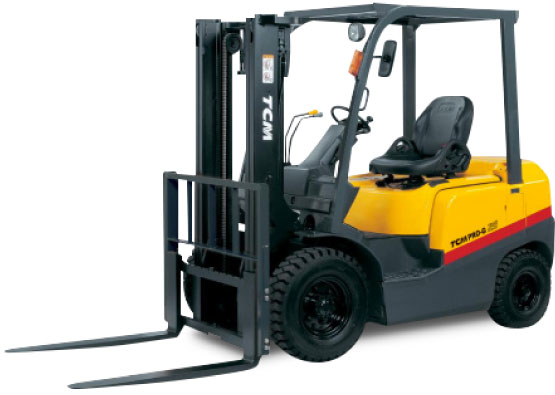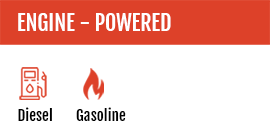 Looking for high power compact lift trucks for your operation? TCM trucks deliver extra power and legendary reliability that you can count on day after day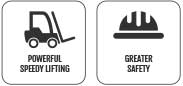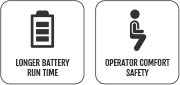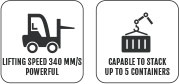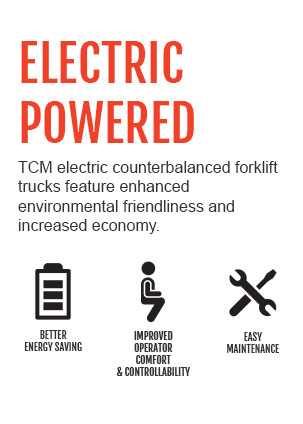 รถยก TCM Forklift มีความน่าเชื่อถือสูงมาก เราเองก็มีความภูมิใจที่ได้จำหน่ายรถยกซึ่งเป็นหนึ่งในรถยกที่เชื่อถือได้มากที่สุดในตลาดปัจจุบัน

TCM Forklift ออกแบบมาเพื่อใช้ในอุตสาหกรรมและถูกผลิตขึ้นด้วยชิ้นส่วนระดับโลกและประกอบด้วยมาตรฐานสูงสุดเพื่อให้ได้ผลิตภัณฑ์ที่มีคุณภาพดี

Pการปกป้องสิ่งแวดล้อมเป็นสิ่งสำคัญสำหรับ TCM เช่นเดียวกับที่เรารู้ว่าสิ่งนี้สำคัญต่อลูกค้าเราเช่นกัน รถยกของเราผลิตได้ตามมาตรฐานสูงสุด ISO 14001 และเป็นไปตามกฎข้อบังคับล่าสุดเกี่ยวกับการปล่อยมลพิษ

เป็นรถที่สร้างและออกแบบมาโดยวิศวกรที่มีประสบการณ์ เรามุ่งมั่นที่จะบรรลุมาตรฐานความปลอดภัยสูงสุด คุณสามารถดูได้จากตัวอย่างในรุ่น iNOMA ซึ่งมีปัจจัยด้านความปลอดภัยสูงถึง 155%

TCM trucks are very, very reliable. We are proud to produce one of the most reliable fork lift trucks in the market.

Out trucks are built to the highest standards and designed by experienced engineers. We aim to meet the toughest safety standards. You can see this by example in the iNOMA. It has a 155% safety factor.

Protecting the environment is important to TCM, just as we know it's important for many of our customers. Our trucks are built to the highest standards including ISO 14001 and also to meet the latest emissions regulations.

Designed for industrial use TCM trucks are built with world-class components and assembled with the highest standards of build quality.
TCM CONTACT


Mr. Kiattisak Phiromphure
Tel. 02-3125300 Ext. 128
Email address : k.phiromphure@hotmail.com
Mr. Somporn Booranaburoostam
Tel. 02-3125300 Ext. 118
Email address : somporn@siamind.co.th , sonk.tcm@hotmail.com
Mr. Yanyong Subcharoenwong
Tel. 02-3125300 Ext. 119
Email address : yanyong@siamind.co.th , yanyong_tcm@hotmail.com
Mr. Puenthai Udsa
Tel. 02-3125300 Ext. 123
Email address : puenthai@siamind.co.th , hs3fbr@hotmail.co.th
Tel. 02-3125300 Ext. 704
Email address : industrial_spareparts@siamind.co.th
Call Center 02-3125300 ext 702 – 708
Mr. Dheerapong Trungkavachirakul
Tel. 02-3125300 Ext. 777 Call Center 02-3125411
Email address : industrial_service@siamind.co.th
Head office and service center
5/15 Moo 6, km.15 Bangna – Trad Highway, Bangplee
Samutprakarn 10540
Tel. 02-3125300 Fax. 02-3125301-2
Pathumthani service Center
74/4 Moo 4, Bangkok – Pathumthani Road, Bangluang, Muang
Pathum Thani 12000
Tel. 02-9782827-9 Fax. 02-9782830
Northen service center
49/6 Moo 7 Tambol Watchan, Amphur Muang,
Phitsanulok 65000
Tel. 081-0397683
Eastern service center
1602/8 Moo 4, Sukhumvit 36 Road, Nikom Patana Rayong 21180
Tel. / Fax. 038-877186-7
Southern service center
Supasarn Engineering Co., Ltd.
276 Moo 14 Tambol Thachang, Amphur Bangklam, Songkla 90110
88 Moo 4 Tambol Pradu, Amphur, Mueng Suratthani, Suratthani 84000
13/1 Moo 2 Tambol Nataluang, Amphur Mueng Trang, Trang 92000
North Eastern service center
337 Moo 16 Tambol Nuemueng, Amphur Mueng, Roi Et 45000
Tel. 092-2670087