WHY AUTOMATIC PARKING SYSTEM ?
SPACE SAVING
• Multiple the numbers of cars in the same space
• Increase the profits by full usage of land.
SECURITY
• Free from RISK OF INJURY
• Free from DAMAGE & DENTS
• Free from THEFT & VANDALISM
CONVENIENCE
• No more Heated Car by hot sunshine
• No more Dust/Sand by desert wind
• No more walking ground parking decks
AUTOMATIC PARKING SYSTEM ONLY!
• Concentrate on Automatic Parking system
• Technology Enhancement through feed-back
of Field Experience
ONE STOP SOLUTION
• Consulting
• Manufacturing
• Maintenance
ACCUMULATED TECHNICAL EXPERIENCE
• Acquired through trial/error of over last 18years
experience
• Well trained Expert engineers

URBAN Car CPE series is SPEEDY SYSTEM that incorporated technology of elevator and automatic storage. Car on pallet is moved up/down & left/ right by hi – tech electronic control. Elevator system is economical, convenient & safe parking facility.
Feature
• Maximized the space efficiency through store max. 72 cars at 3 cars parking space (approx.. 48 m2)
• Fast Lifting Speed: 60-140 m/min
• In case of mechanical trouble, the error message is automatically displayed on PC screen, so that system manager can treat the problem immediate ly and can provide prompt service with ease.
• PC SIMULATION system makes it possible to catch hold of every situation such as entering/ taking out of vehicles, management of charges monthly statistical data, day, and hour.
• It is possible to install the equipment horizontally, vertically, as a built-in type & independently, according to the shape of area, and it is also free to choose bottom, middle and top entry according to the building status.
MODEL CPE series
CAPA. / LIFTER 72 cars
IDEAL LEVEL PER LIFTER 25 levels / 50 cars
ALTERNATIVE MODEL E3, E4, E5, E6 system
MAX. CAPA. Unlimited
INSTALLATION (GROUND) ON > UNDER
REMAKR *Speedy Model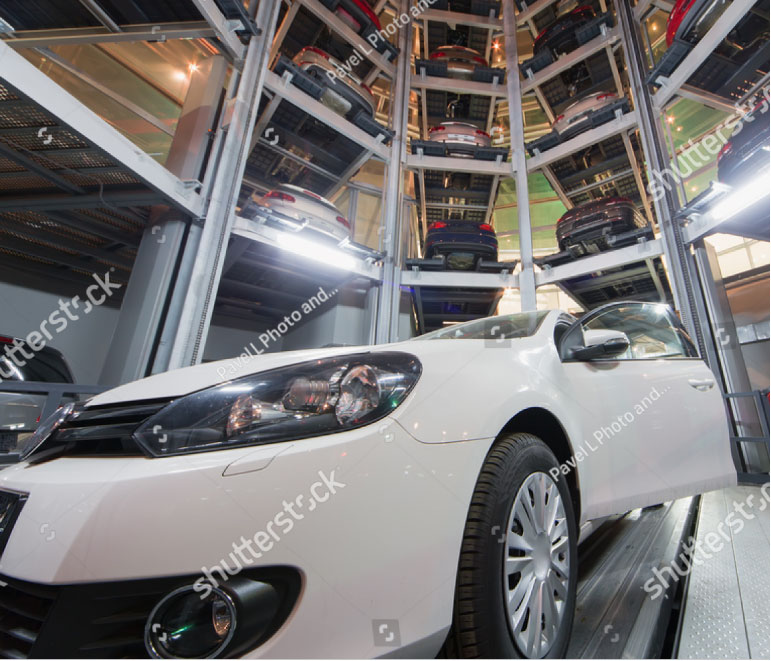 FLAT
BI-DIRECTIONAL
SYSTEM

URBAN Car CPM series is innovation of 3-D moving mechanism that allows simultaneous operation of Lifter & Cart. Hi-Tech electronic control system is providing accurate & reliable positioning and fast delivery of vehicle.
Feature
• Minimized the IN/OUT time by simultaneous. Lifting & Traversing operation.
• Available to increase parking space depending on space capability.
• Energy saving mechanism by advanced electronic control system
MODEL CPM series
CAPA. / LIFTER 80 ~ 84 cars
IDEAL LEVEL PER LIFTER 5 levels / 60 cars
ALTERNATIVE MODEL Cart Robot System
& Pallet Fork System
MAX. CAPA. Unlimited
INSTALLATION (GROUND) ON > UNDER
REMAKR * Expandable Levels & capacity
MULTI LEVEL
CIRCULATION
SYSTEM

• Small Space, 2, 3 or 4 levels at basement
• Sequential movement with Main Lifter & Sub Lifter
Feature
• Increase Space efficiency
• Various Entry way depending on building & site condition
• Max, utilization of building space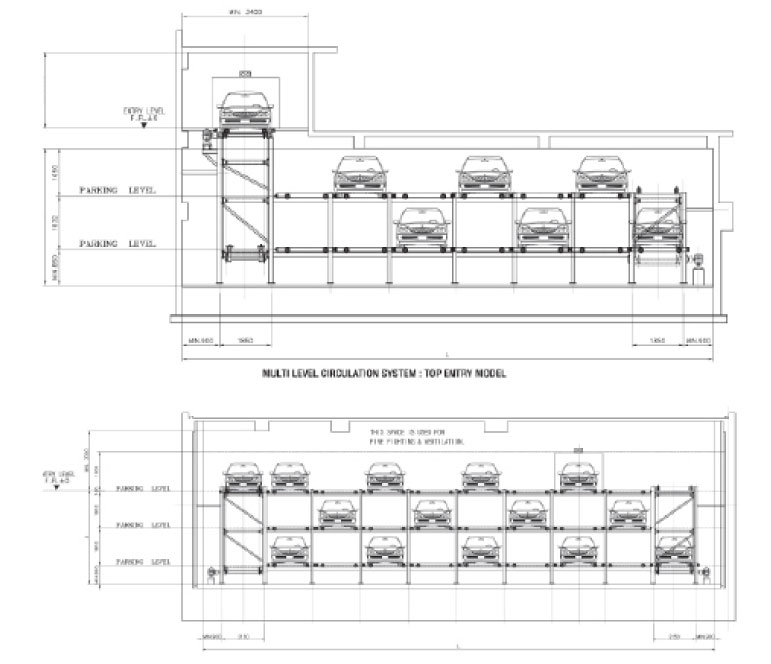 • Simple Operation & Mechanism
• Reduce Parking time & Retrieval time
• Easy & Economic Maintenance
Feature
• Increase Space deficiency
• Many Entry ways depending on building & site condition
• Max, utilization of building space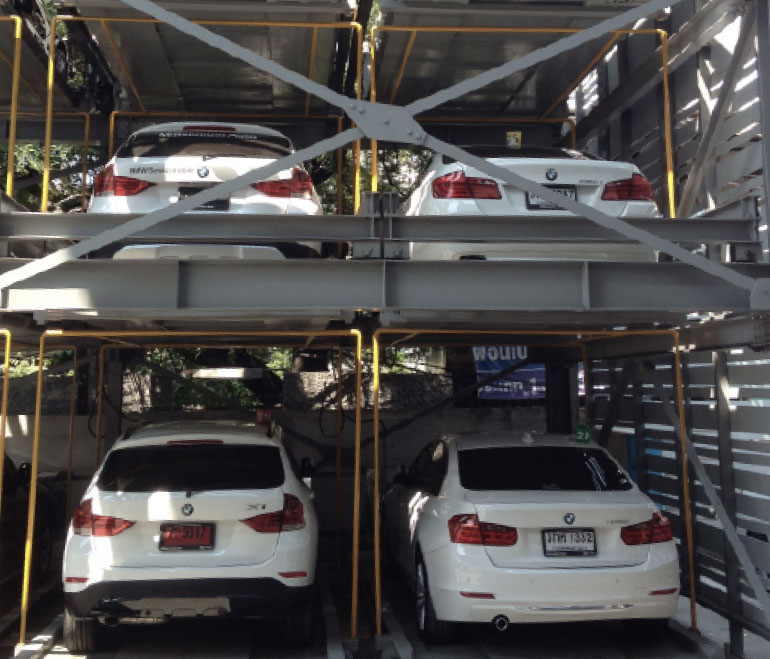 1. Min Area need?
A. There are 7 models in Parking System and required area is depending on model For example, Elevator system need 6.2 x 7.2 m (45 m2) for 72 cars (max) parking. Please refer to layout plan of catalog and specification.
2. Max area for system?
A. Event at wide area, there is on principle. When we consider reasonable In/Out car speed, 1 lifter can manage 72 cars for Tower system and 84 cars for Flat Bi-Directional System. At wide area, it need more times if the lifter q'ty is few. In this case, increase lifter q'ty and, then, parking space can be expanded.
3. Maintenance?
A. Maintenance is essential after installation. Some of mechanical component can be worn by operation and should supply oil & fastening bolt. So, system needs regular monthly maintenance, checking sensor and replacement of worn & tom components.
4. Facilities?
A. For built-in building system, misc. facilities such as – Lighting, Telecomm, Fire Fighting, Ventilation and/or Air Conditioning – are Architecture's work, And, for Independent system, these facilities can be managed by parking system supplier in Korea.
5. Insurance of System?
A. Insurance is applied two categories. Compensation of Production for system maker and Compensation of safety for system operation. For customers, we recommend to insure. In Korea, insurance is responsibility by law.
6. System Safety?
A. System safety is very sensitive matters. If system doesn't guarantee safety of drivers, nobody will visit parking system. At Entry room, various optical LASER sensors are installed for driver's safety. And Steel wire, Lifter. Cabin room, Parking room, Shock Absorber, Emergency Stoop Button…. etc., are protected by special sensors.
7. Life of Structure?
A. Life of structures is depending on maintenance. The first "automated" parking system built by Krupp in1958 in the Deutsche Bank in Munich. This system is still serving the patrons to date with its original installed parts! After over 52 years of continued operation.
8. Installation period?
A. In Korea, it takes 60 days for 50 cars installation with experienced workers. Period can be varied depending on local worker's quality & Site conditions.
9. Time of In & Out car?
A. By Korean government's regulation, every car in the system, regardless of q'ty, should be out within 9,000 sec. So, average Out time is less than 1 min 40sec. Our recommend is based on this speed. Sometimes, building owner want 'as many as possible' q'ty which are not agreeable because of system efficiency such as waiting time & convenience.
10. URBAN Car Reference?
A. URBAN Car system is installed over 300 system / 15,000 car space in Korea (2007)
11. Oversea Reference?
A. Installed & Contracted: Taiwan, China, Australia, Sri Lanka, India, Russia, Singapore, Thailand. B. Under Discussion: USA, Vietnam, Saudi Arabia, Mexico, Egypt, UAE..
12. Outside panel & color?
A. Outside structure can be variable such as Sandwich panel, Al-composition panel, concrete… etc. Color is limited by panel maker's standard or paint color.
13. Endurance of hot Sun?
A. System is well covered in roofed structure with heat protection materials. In some hot environment, air ventilation and/or air conditioning may necessary.
14. Underground parking?
A. Most of systems are available underground parking. And we recommend underground parking in order to reduce dead space by parking area.
15. Parking management?
A. Parking Management system will be installed when URBAN Car requested by clients.
16. Office under parking system?
A. When the system is over office room, noise & vibration from mechanical friction should be considered. Basically, we recommend to design carefully for this condition.